Join the Greco (Grinners) Family
Find out how
The first Greco Pizza opened in 1977 in Moncton, NB. Since opening we have continued to innovate the Greco Pizza concept and refine our business model into one of the strongest concepts in the industry. Today Greco Pizza is the number one pizza delivery chain in Atlantic Canada with expansion plans for Ontario and Alberta.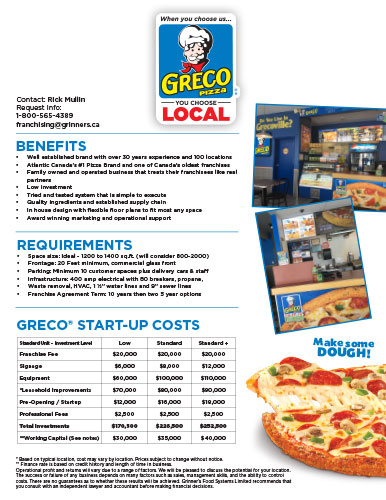 Greco Pizza is owned by Grinners Food Systems Ltd, a proud family owned and operated company based out of Truro, Nova Scotia.
Greco Pizza is a proven industry leader, being the first to market – Donairs, Flavoured Crust, Thick 'n' Crispy Pan Pizzas, Oven Subs, Flipwich™ and Cinnastrips™.
The highest quality ingredients, our award-winning marketing campaigns and our innovated guest services such as our one number telephone system (310-3030), 30 minute delivery guarantee and new pizza delivery tracking system are some of what makes Greco Pizza Atlantic Canada's #1 choice for Pizza.
Today there are over 100 outlets operating in Atlantic Canada and Ontario. Each Greco Pizza is a professionally designed, low investment restaurant that serves the highest quality products at reasonable prices.
Why Partner with Greco Pizza
Our company was built over 30 years ago on hard work, determination, a passion for making people happy and a powerful entrepreneurial spirit. We understand what it takes to build a company and take pride in passing this experience on to all our new franchise partners. Potential franchise partners are given thorough consideration and are guided through an extensive qualification process that includes personal checks, interviews and individual support. During our full day of discovery each of our successful franchise partners are given the opportunity to meet one on one with each of our corporate department heads. During this time you will fully understand how our company operates and how we will support you in your development as a member of the Greco Family. We are not only looking for candidates that meet our financial requirements, we are looking for partners that are passionate about hospitality, want to be a part of their community, team and community minded with a proven record in operating a business. Most of all we are looking for partners that have a solid work ethic and are committed to helping build and protect the Greco brand.
What separates Greco from the rest
Low Investment Required
We use only the highest quality ingredients
Industry leading innovation such as our:

Delivery 310-3030 system
On-Line Ordering
Delivery Tracking System
Touchless Delivery
Always Free Flavoured Crust
100% Satisfaction Guarantee

Award Winning Marketing Support
Our fully integrated corporate support system including operations, legal, design, construction, financial and advertising
A family run business that treats its franchise owners as partners and truly wants to see them succeed.