History
Capt. Sub was launched in 1972 from Kent St. in Charlottetown, Prince Edward Island. Styles have changed over the years, but it's always been our desire to serve great tasting subs. In 2002 Capt. Sub received a refit – a new look and a new menu, featuring oven toasted subs. Everyone agrees that our crew are 'The Toast Masters'.
The Opportunity
Larger markets/full time owner/operators. This opportunity is for a full franchise which is ideally suited for a hands on investor looking to own and operate a Capt. Submarine franchise full time. It requires a larger investment than the Xpress opportunity and is more ideally suited to markets with a population base of 10,000 or more.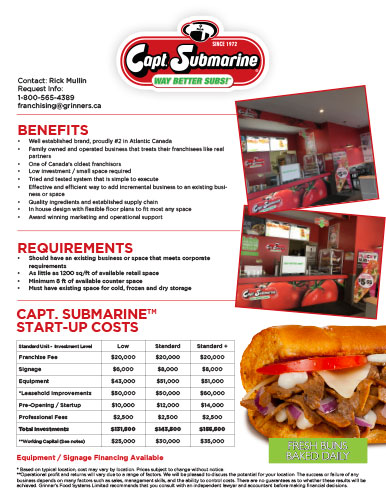 Toasted Tastes Better
The Capt. Submarine system is a concept created to provide a distinctive and unique product. A conveyor toaster oven ensures every toasted sub delivers the same high quality level of taste and quality consistently, fresh baked bread, substantial toppings and high quality meats and cheese combine to create a delicious and savoury sub like no other.
Join our crew today. Be part of the winning Capt. Submarine fleet of restaurants. This is a great opportunity to break away and be your own boss with your own Capt. Sub franchise.